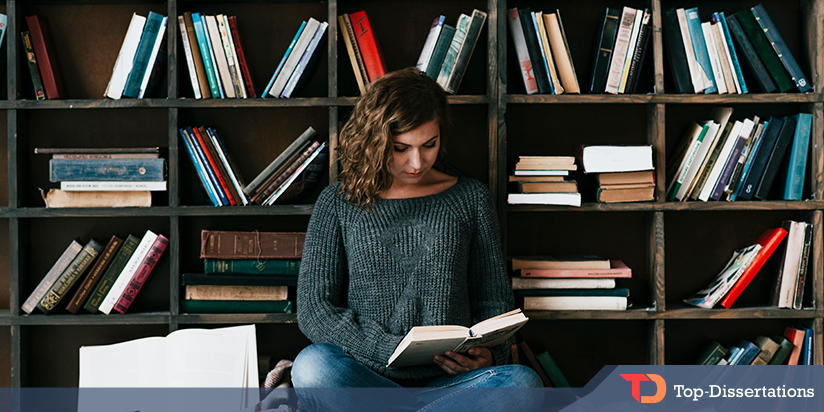 Often, students face difficulties with writing the literature chapter of dissertation. Some of them do not even know what it is, while the others are struggling with structuring it. If you are a new student or do not know exactly how to write all the dissertation chapters, including the literature review, here are some tips that will help you.
What Is a Literature Review?

Usually, a literature review has to be presented near the beginning of the paper, and should be one of the key parts of its structure. A literature review for a dissertation presents a brief summary of the current writings on the topic you are researching. You will probably not have much time to read all the word available on your topic, but in this part of the paper you have to demonstrate wide reading.
What Should It Include?

You have to find a couple of topics that several authors mention and describe the ways they have tackled them. Do your best to make this chapter of your paper maximally comprehensive and mention every significant theorist or writer in your field.
It is necessary to provide a strong idea of how the field lies. Thus, should you not simply mention all the writers separately, but relate them to one another and make a comparison of their opinions.
It is very convenient to use subheadings or bullet points while writing a literature review for a dissertation to clarify every author's position.
How Long Should It Be?

Generally, a literature review for master's dissertation has to be around ¼ of the complete paper, but this also depends on the wider structure of the dissertation and the scope of available literature. Anyway, while thinking about the question 'how long should a literature review be?' and choosing the sources for the paper, remember to ask whether each article is relevant, suitable and useful.
Tips on Writing a Great Literature Review

Questions

Before you start analyzing the literature, it is important to clarify the research questions which will help you guide your paper. First of all, formulate the problems. This will help you avoid wasting precious time on aimless reading. You have to know the issues of concern to your dissertation and select the appropriate material.
Wide Search

If you need some dissertation literature review help, then here is a piece of advice for you. Try to demonstrate the ability to find relevant material from the multiplicity of sources. Look through online databases to find useful articles, use the libraries and consult the web for extra resources. Gather as much information as you can, but use only the directly relevant content. Make sure you devote enough time for analyzing the significance of every source.
Key Topics

You will have to identify, explain, interpret and evaluate all the key topics which are presented in the literature you have been using in your research. Such an analysis will show your genuine engagement with the literature and will provide you with the basics for writing the body of your dissertation.
Critical Attitude

Develop a critical approach to the material you are going to use in the dissertation. This will help you eliminate unnecessary information as well as poor arguments in your writing.
Findings

Should you not just identify key elements in every source, but also reach some findings in light of your analysis of those sources. One of tips for writing a literature review is to provide a summary, which will include your point of view on certain controversies, will describe deficiencies in current knowledge and will present your perspective on that of others.
Categorization

Make sure to divide your literature review into categories based on different characteristics such as chronology, academic position etc. A good way to present this chapter is to categorize material into "for" and "against" classes for particular controversies.
Theory

Make sure to include in your paper the theoretical underpinning of every source you use. Clearly, describe the rationale behind the theoretical aspect to your own findings as well as the viewpoint you have reached while working on this assignment.
Source Provenance

Before including any source to your literature review chapter, ensure it is worth it. Check how authoritative this particular writer is, whether he or she is widely cited, whether the later response in literature has provided tempestuous critique or considerable support, and so on.
Valid Sources

One of the most important things to consider when writing a dissertation is the validity of the sources. Remember that in certain fields classic texts retain their authority for centuries, while scientific research, for example, requires more mindfulness.